At Pack and Bianes Vision Care Optometry, our team of optometrists in Terra Nova specializes in the accurate diagnosis and treatment of vision problems. Whether you've been dealing with eyesight problems all your life or have started noticing troubling signs recently, we help you prevent, diagnose, and treat your vision problems. Our optometrists provide highly-personalized diagnostic tests and curate the ideal treatment plan for your specific needs. Please consult our optometrists to discuss your vision problems today.
Refractive Errors
Refractive errors are the most common reasons for blurry vision. The term "refractive errors" refers to a group of vision problems that occur because of improperly shaped corneas, i.e., the lens at the front of the eyes. In healthy eyes, the corneas must bend light optimally to reach the retina. However, when the shape of your corneas changes, they may not bend light correctly, leading to blurry vision. The following are the types of refractive errors:
Myopia (nearsightedness) — closer objects appear clearly, but distant objects are blurry.
Hyperopia (farsightedness) — distant objects appear clearly, but closer objects are blurry.
Presbyopia — the lenses harden with age, leading to blurry vision.
Astigmatism —blurred vision in all distances due to an asymmetrical curvature in the cornea.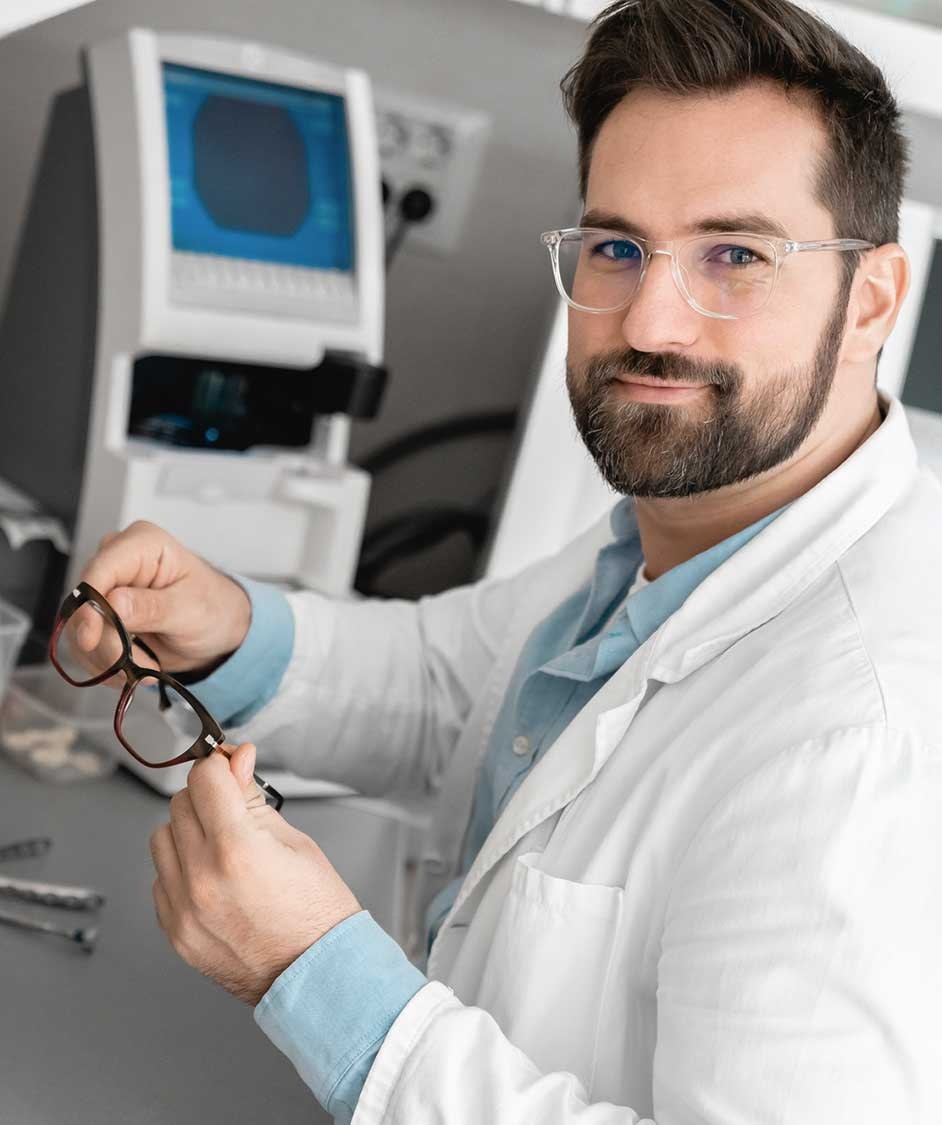 Amblyopia (Lazy Eyes)
Amblyopia, aka lazy eyes, is a condition wherein abnormal visual development in one's childhood leads to reduced vision in one eye. This vision problem occurs when your brain has trouble processing information from one eye, favoring one eye over the other. The continued lack of use may gradually worsen vision in the weaker eye, potentially leading to permanent loss of vision. Amblyopia generally develops in children by the age of 7 years, and it should be treated at the earliest stage possible.
Strabismus (Crossed Eyes)
Strabismus, aka crossed eyes, is a condition wherein the eyes don't line up correctly, i.e., the two eyes seem to be looking in different directions. In healthy eyes, the six muscles controlling eye movements work and move collaboratively, but patients with strabismus have trouble controlling their eye movements. Strabismus is treatable, but you must seek diagnosis immediately because it may eventually cause permanent vision loss.
Cataracts
A cataract is a dense and cloudy formation in the lens of the eye, caused by the accumulation of proteins in your eyes. The gradual accumulation of proteins produces lumps that sit over the lens, preventing it from sending clear images to the retina and the brain. Cataracts are extremely common amongst older individuals, and approximately half of all people in the United States undergo a cataract surgery by 80 years of age. Cataracts can initially be treated with bright lights and glasses, but you may need to consider cataract surgeries if they progress significantly.
Macular Degeneration
Macular degeneration is an eye condition afflicting the macula, i.e., the central part of the retina responsible for 20/20 vision and color vision. Age-related macular degeneration (AMD) is a progressive eye disease common amongst individuals over 60 years of age. If left untreated, macular degeneration causes severe vision loss. It's advisable to diagnose and treat AMD at the earliest stage possible.
Schedule A Comprehensive Eye Examination to Diagnose & Treat Your Vision Problems
At Pack and Bianes Vision Care Optometry, we administer a wide range of screening tests and assessments to diagnose the root cause of your vision problems. We aim to provide conservative treatments that restore optimal vision and prevent your vision problems from worsening. If you're concerned about your eyesight, schedule an appointment today.