There's a common misconception that eye exams are only meant for people who wear glasses or contact lenses. Sure, people wearing contact lenses and glasses must go for annual eye exams to update their prescriptions and maintain optimal vision. But comprehensive eye exams should be an integrated part of everyone's annual health checkups, not just those with existing vision problems.
Comprehensive eye exams in Rancho Santa Margarita are structured to serve two goals — updating prescriptions and identifying potential signs or symptoms of vision problems. Depending on your risk factors for eye disease, such as health history, family history, age, etc., our optometrists may recommend frequent eye exams. These eye exams are crucial if you want to maintain optimal ocular health and vision for a lifetime.
Your Comprehensive Eye Exam in Rancho Santa Margarita Includes…
Medical History Evaluation
The optometrist will discuss your medical history, overall health history, and ask questions about your eyesight and vision. If you experience vision problems, accurately inform your optometrist.
Visual Acuity Test
Visual acuity is a measure of the sharpness of your near and distant vision. The doctor administers a series of tests to determine how clearly you can see distant or close objects. It allows them to determine if you need glasses.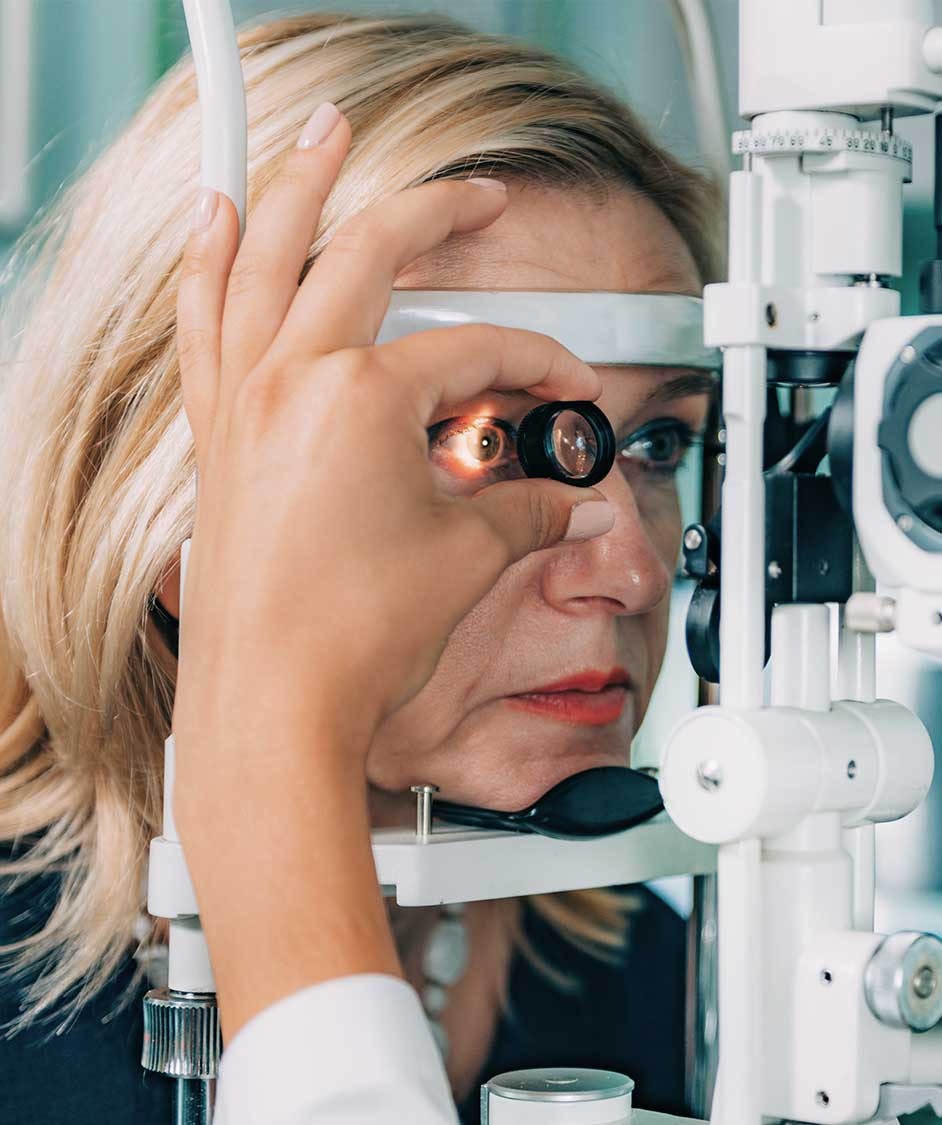 Color Blindness Test
Color blindness tests are administered during one's early childhood to rule out the possibility of color blindness. However, color blindness tests can also be administered in adulthood to identify possible signs or symptoms of nascent eye diseases.
Cover Test
The eye doctor will instruct you to cover one eye and then the other. It helps the doctor evaluate your eyes' coordination to see how they work together and individually.
Refraction Test
Refraction tests determine if you're suffering from refractive errors, such as nearsightedness, farsightedness, or astigmatism. If you already wear glasses and contacts, then refraction tests allow doctors to update your prescription. You're asked to focus on letters or numbers through different lenses of various strengths — the doctor will provide a prescription based on your visual clarity.
Ocular Motility Test
The doctor may ask you to focus on a slowly moving light to examine how well your eyes coordinate to focus on moving objects.
Glaucoma Test
Glaucoma is a condition wherein excessively high pressure inside your eyes damages your optic nerves. During glaucoma tests, the doctor will measure the pressure within your eyes, i.e., the intraocular pressure. The doctor will administer Non-Contact Tonometry, aka the "puff of air" test, to examine your intraocular pressure.
Slit Lamp Test
The doctor will instruct you to rest your chin and forehead against a binocular microscope. The doctor will use the microscope and a handheld laser to non-invasively examine the outer structures of your eyes, the retina, and the optic nerve.
Glaucoma Test
Glaucoma tests measure your intraocular pressure, or the pressure inside the eye. This is usually accomplished with the "puff of air" test, technically called Non Contact Tonometry. This quick and painless test can alert your eye doctor to high eye pressure, a major risk factor for glaucoma.
Slit Lamp Exam
During a slit lamp exam, you will comfortably rest your chin and forehead against a binocular microscope. Your eye doctor will use this microscope to examine the outer structures of your eye, then use a hand held lens to non-invasively examine structures further back in the eye, like the retina and optic nerve.
Pupil Dilation
The eye doctor will administer some pupil dilating drops to dilate your pupils for a clearer examination of your inner eye structures. Pupil dilating drops are painless, but they increase your sensitivity to light, so you're advised to have someone else drive you back after the exam.
Visual Field Test
The eye doctor measures your peripheral vision and looks for potential blind spots, indicating certain eye diseases.
Specialized Tests
If the eye doctor notices any warning signs based on the previous tests, they may administer a few more specialized tests to correctly diagnose vision problems.
Schedule Your Comprehensive Eye Exam in Rancho Santa Margarita Today
Rancho Santa Margarita Optometry provides comprehensive eye exams that conclude within an hour or two. We use the latest cutting-edge diagnostic technologies to identify the slightest warning signs of vision problems, helping you and your family maintain optimal eye health for a lifetime. Schedule your comprehensive eye exams at Rancho Santa Margarita Optometry today.