Contact lenses are a suitable alternative to glasses for people who want something more discreet. Like glasses, contact lenses also correct a wide range of refractive errors, including nearsightedness, farsightedness, age-related presbyopia, and astigmatism caused by irregularly shaped corneas.
At Rancho Santa Margarita Optometry, we provide a wide range of contact lenses from some of the most reputable brands in the industry. Our opticians help you choose the best contact lenses in Rancho Santa Margarita, combining comfort and clarity.
Switching Over to Contact Lenses
Some patients find that contact lenses provide clearer and sharper vision than glasses. Others simply prefer contact lenses because they're discreet and invisible. Whatever your reasons may be, Rancho Santa Margarita Optometry is here to help you make the transition from glasses to contact lenses.
Once you decide you want contact lenses, the first step is to get a contact lens prescription. Our optometrist will run some eye exams and tests to provide the ideal contact lens prescription. We also help you choose the right type of contact lenses for your specific needs, describing the unique qualities and benefits of all your options, such as soft, rigid, toric, multifocal, and specialty lenses.
Our optometrist shows you how to insert, remove, clean, and maintain your contact lenses. Finally, we simplify the contact lens reordering process, making Rancho Santa Margarita Optometry a one-stop destination to address all your contact lens needs and requirements. You can schedule your contact lens fitting individually or with your comprehensive eye exams.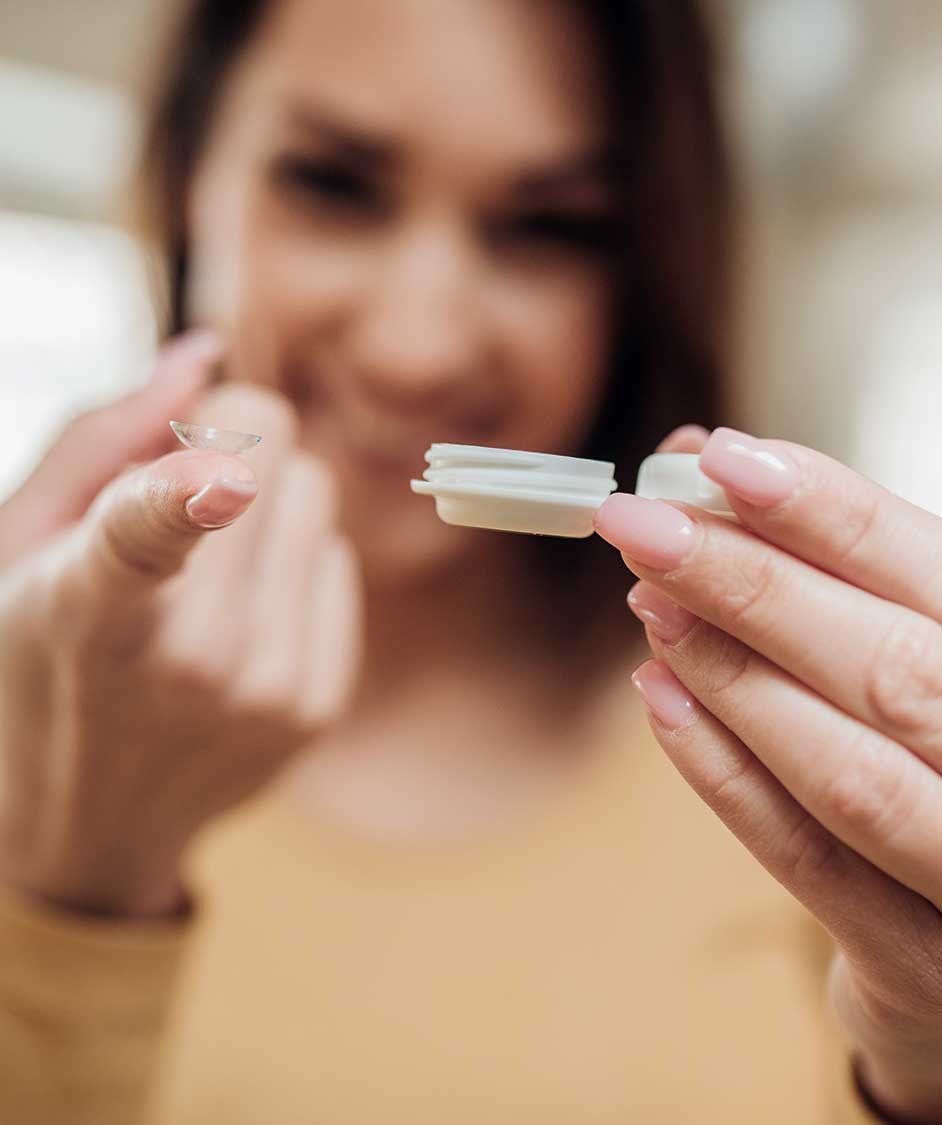 Choosing the Right Contact Lenses
There are various types of contact lenses. You can find ones that are soft, hard, disposable, long-wearing, multifocal, colored, etc. When it comes to choosing the best contact lenses, Rancho Santa Margarita Optometry has experts who will assist you. Your optometrist will recommend the ideal type based on your prescriptions and preferences.
Soft Contact Lenses
Soft contact lenses are made of soft materials that allow oxygen to pass through and reach the cornea. They require minimal maintenance, and they're comfortable right off the bat.
Rigid/Rigid Gas Permeable (RGP) Lenses
Rigid contact lenses, also called rigid gas permeable (RGP) lenses, are harder contact lenses that provide sharper and clearer vision than soft contact lenses. They're not immediately comfortable, but you'll get used to them eventually.
Multifocal Lenses
Multifocal contact lenses include multiple prescriptions within the same lens. They're useful when treating multiple refractive errors simultaneously. You may take some time to get the hang of them, but most patients are happy with their lenses.
Toric Lenses
Toric lenses are specially designed in a "donut" shape to treat blurry and distorted vision caused by astigmatism. You can get soft or rigid toric contact lenses.
Fashion Lenses
Fashion lenses are colored contact lenses that change the color of your eyes. You can get fashion contact lenses with or without prescription, but they're mostly used to provide a cosmetic value.
Schedule Your Contact Lens Fitting in Rancho Santa Margarita Today
If you're ready to start wearing contact lenses, schedule your contact lens fitting with our exceptional optometrists today. Rancho Santa Margarita Optometry is here to simplify and address all your contact lens needs with easy fittings, reordering, and personalized care.