Like glasses, contact lenses can correct a range of common vision problems. Whether you suffer from myopia (nearsightedness), hyperopia, (farsightedness), astigmatism (blurred vision), or presbyopia (blurred vision caused by aging), our contact lenses in Rancho Bernardo may be an effective and comfortable solution for you. Join us at Total Vision in Rancho Bernardo to learn more about your options.
Making the Switch to Contact Lenses
Some patients find that they can achieve clearer vision from wearing contact lenses than they can from wearing glasses. Other patients simply prefer not to have bulky glasses on their face all day! Whatever your reason for considering the switch to contact lenses, your Total Vision optometrist will determine your contact lens prescription, help you decide on the right type of contact lenses for you, and teach how to insert, remove, and care for your contact lenses at your contact lens exam and fitting.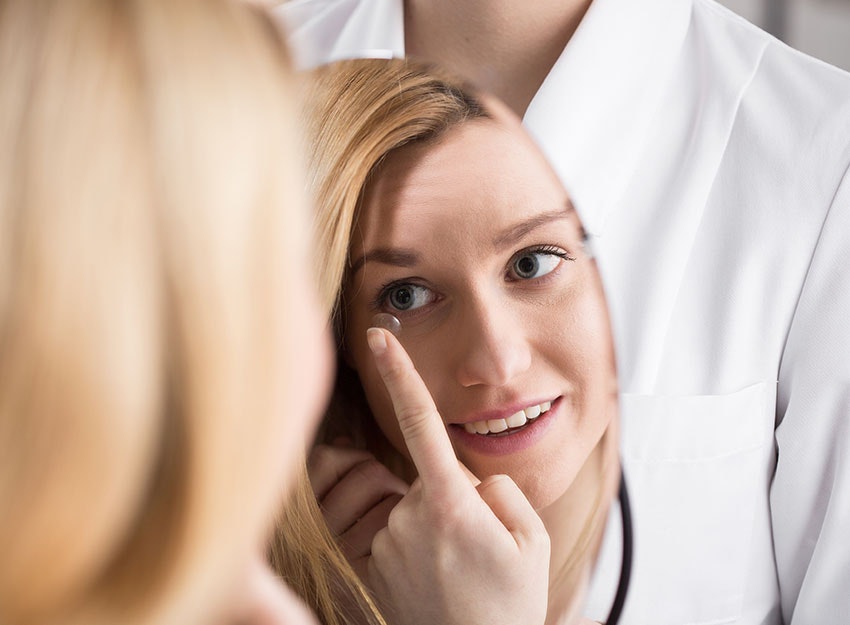 Your Total Vision Contact Lens Fitting
During your contact lens exam, your eye doctor will perform a variety of tests to ensure that contact lenses are an appropriate treatment for your vision problems. Next, they will determine your contact lens prescription, which will be slightly different than your glasses prescription. Depending on your particular vision problem and your lifestyle, your optometrist may recommend one of several kinds of contact lenses.
Contact Lens Types at Total Vision
Soft
Soft contact lenses are usually comfortable right away and require less maintenance. For this reason, they are the most popular type of contact lenses.
Rigid/Rigid Gas Permeable (RGP)
Rigid contact lenses can attain clearer vision than soft contact lenses for some patients, but require an adjustment period before they feel comfortable.
Multifocal
Multifocal lenses include more than one prescription in the lens. While learning to use multifocal contact lenses correctly can take some effort, many patients find them worth the time and energy.
Toric
Toric lenses are made to treat patients who have astigmatism and can be an excellent solution for those who find standard contact lenses uncomfortable.
Fashion Color Lenses
With or without a prescription, a change of eye color with fashion color lenses can be a fun and confidence-boosting switch!
The Perfect Fit
Once you decide on the right type of contact lenses for you, your eye doctor will teach you how to put in and take out your contact lenses and how to properly maintain your lenses. Some patients prefer the consistency of long wear contacts, while others enjoy the convenience of disposable daily contacts. Your Total Vision optometrist's primary goal will be to match you with contact lenses that give the clearest possible vision while fitting comfortably into your lifestyle. We specialize in providing contact lenses Rancho Bernardo clients are more than happy with. We will help you find the right fit, every time.

Get Contact Lenses in Rancho Bernardo
When you're ready to discuss your options, schedule a visit with your eye doctor at Total Vision. Your optometrist will help you make the best contact lens decisions for your lifestyle and needs. With easy re-ordering and personalized care, Total Vision Care is your Rancho Bernardo home for all your contact lens and eye care needs.