At Golden Triangle Optometric Center, you can always expect your eye exam to combine the most cutting edge diagnostic technology with the compassionate warmth and experience of your optometrist. Maintaining your vision and eye health is the work of a lifetime, and that's why we cultivate lasting doctor-patient relationships. When looking for eye exams in University City, Total Vision is the obvious choice.
Your Annual Golden Triangle Optometric Center Eye Exam
Your eye exam will last about an hour and will be painless. Even if you don't require prescription glasses or contact lenses and are blessed with perfect vision, regular eye exams are still a necessity. Your optometrist at Golden Triangle Optometric Center can help you arrive at an eye exam schedule tailored to your needs.
During your eye exam, your optometrist will conduct a medical history, deliver a precise glasses and/or contact lens prescription, and perform a variety of tests and screenings designed to detect your risk of potential eye diseases or conditions. Early detection can help improve treatment outcomes for many eye problems, so your optometrist takes special care to examine your eyes and ensure you are in optimal health.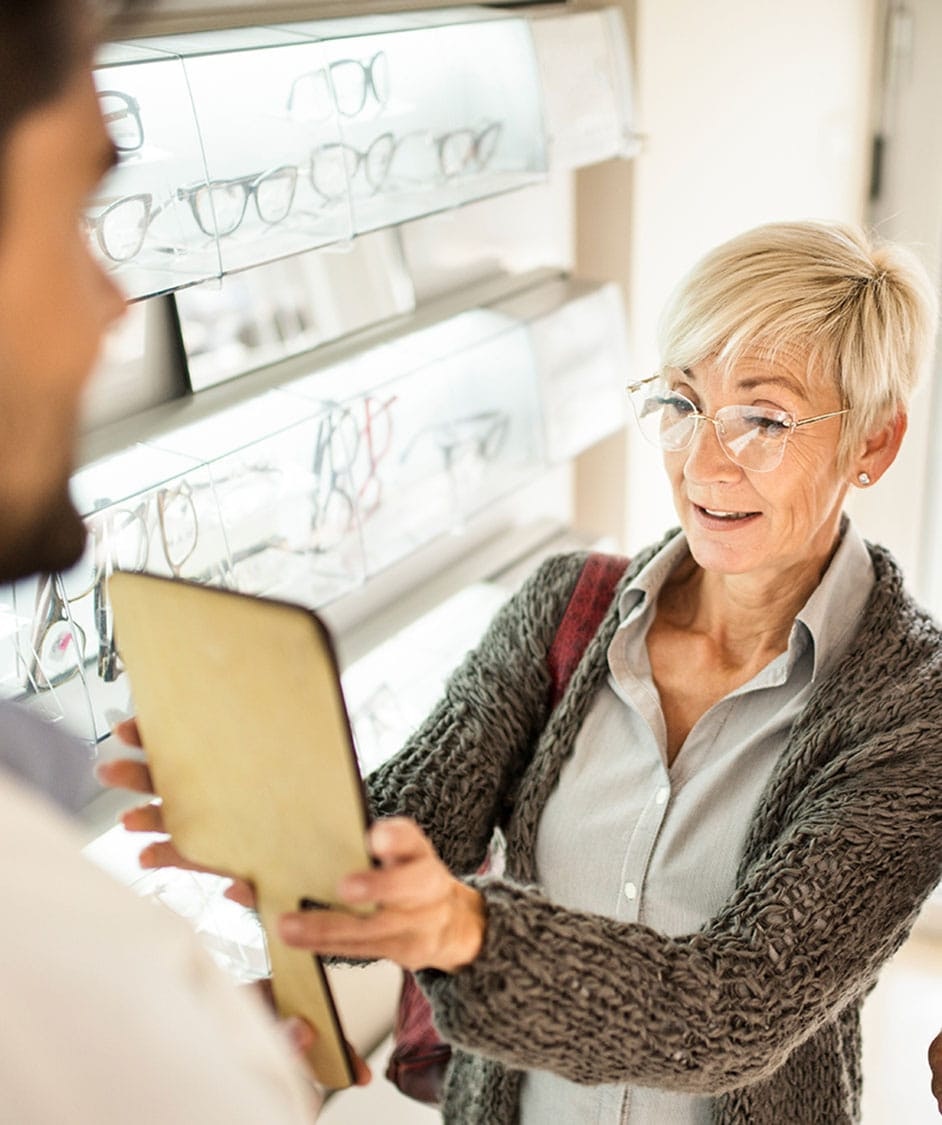 Your Comprehensive Eye Exam Will Consist of:
Medical History
Family history of eye diseases and conditions is one of the strongest risk factors of developing those same diseases and conditions, so your optometrist will need this information if available. However, your optometrist will also ask you about your general health. Conditions such as diabetes, high blood pressure and behaviors such as smoking can also increase your risk of eye disease. The information you supply gives your optometrist more tools to help you stay healthy.
Vision Tests
Your optometrist will use a variety of tests to evaluate your vision and visual acuity. It is during this part of the exam that the eye doctor can diagnose a refractive error and/or determine your glasses prescription. If you also want contact lenses, a contact lens fitting can be scheduled separately or be performed at the same time. Your optometrist will also test your peripheral vision, observe the alignment of your eyes and how well they are working together, and check the reactivity of your pupils.
Eye Disease Screenings
Depending on your age and individual risk factors, this part of the exam may include more or fewer screenings. All patients can expect to be screened for glaucoma with a measurement of their inner eye pressure. Additionally, the eye doctor will use light, mirrors, and microscopes to non-invasively examine the inner structures and back of the eye for any signs of damage or disease.
Each step of your eye exam gives your optometrist important information about your vision and eye health. Prevention of eye disease is as important as the treatment of eye disease! Your annual eye exam allows your optometrist to guide you toward the most beneficial choices for your eye health as they help you maintain your vision.
As part of the Total Vision eye care network, the optometrists at Golden Triangle Optometric Center have the additional benefit of access to cutting edge diagnostic and treatment technology. Even if eye problems arise, you and your family will have the best possible treatment options available right here in University City.
Make Your Appointment
At Golden Triangle Optometric Center in University City, we go the extra mile to make your eye exams in University City as convenient and easy as possible. Your optometrist is here to help you manage and maintain your eye health throughout your life. Keep your prescription up to date and protect your eye health with regular eye exams at Golden Triangle Optometric Center.