A contact lens fitting at Golden Triangle Optometric Center will closely resemble your annual eye exam, including many of the same screenings and tests. For your convenience, you can always combine these appointments. During your fitting for contact lenses in University City's Total Vision location, your optometrist will determine your contact lens prescription, show you how to put in and take out your contact lenses, and ensure you understand how to maintain your contact lenses safely.
Even if you have already been wearing contact lenses for many years, your optometrist can recommend new and improved contact lenses for you to try. This industry is always evolving, and your Golden Triangle Optometric Center optometrist will make sure you are wearing the most effective and comfortable contact lenses for you.
Treating Vision Problems With Contact Lenses
Contact lenses can be an effective treatment for many vision problems, but they are most commonly used to correct refractive errors. In a refractive error, the shape of the eye or the cornea, the lens at the front of the eye, causes light to bend incorrectly, resulting in blurred vision.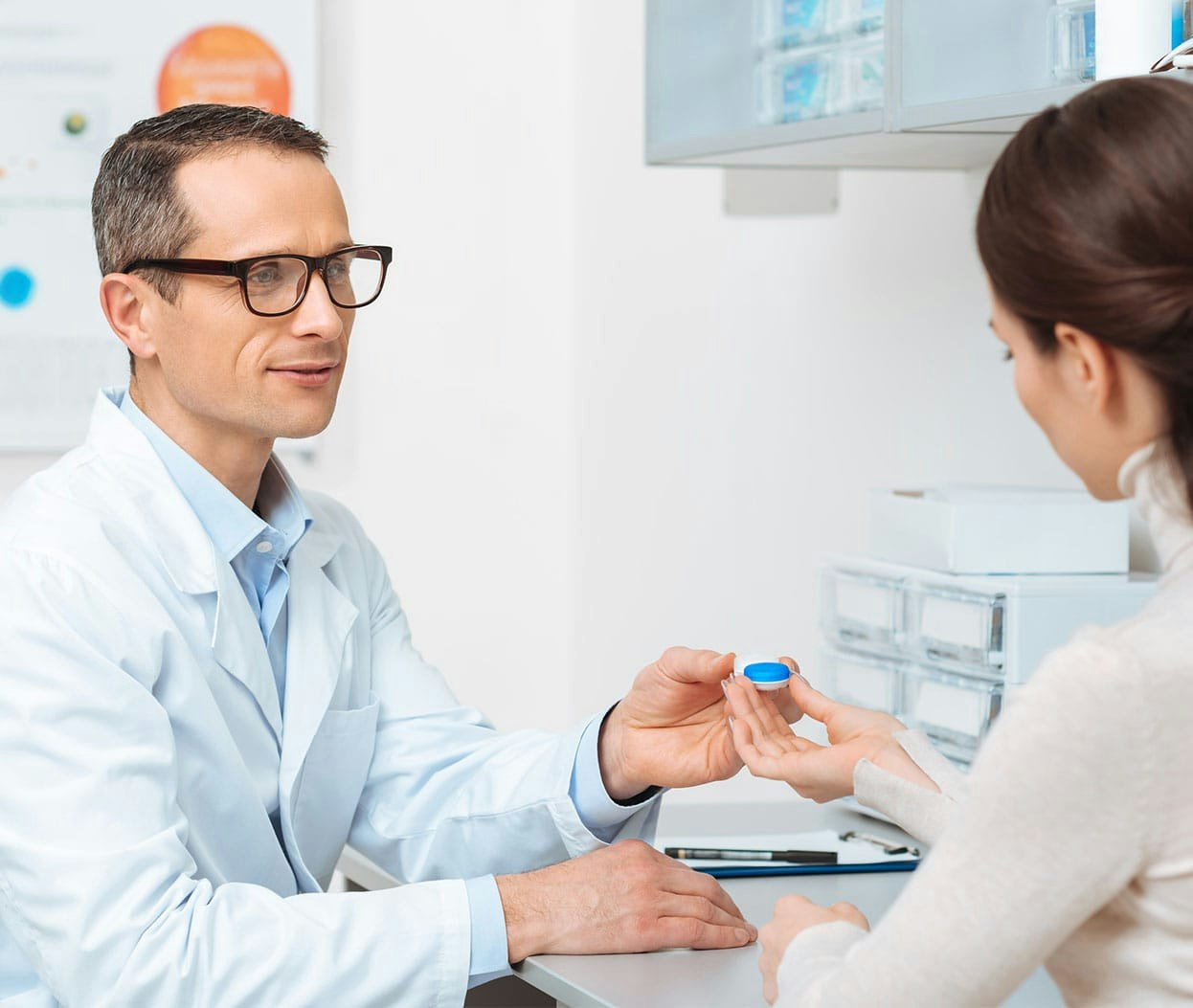 Contact Lens Types
During your contact lens fitting, your optometrist can recommend and allow you to try on different brands and types of contact lenses. According to your preferences and needs, you can make a choice about what type of contact lenses provide you with the clearest vision and comfort.
Soft contact lenses can treat all kinds of refractive errors and deliver incredible all-day comfort. Available in daily disposable and long wearing, these are the most popular type of contact lenses.

Rigid contact lenses can be less comfortable at first, but can achieve even crisper vision for many patients.

Toric contact lenses are specially shaped for treating astigmatism.

Multifocal contact lenses have more than one prescription and are often used to treat presbyopia.
Get Contact Lenses in University City
As part of the Total Vision eye care network, Golden Triangle Optometric Center is your source for all your eye care needs. We provide contact lenses University City clients find are a perfect fit. Choose from the most trusted, best-selling contact brands with the help and guidance of your optometrist. With fast, competent service and easy reordering, we deliver a convenient local option for getting the contact lenses you want with the personal care you deserve.

Why Try Contact Lenses?
Clearer vision: Although glasses are also an appropriate treatment for refractive errors, many patients find that they can achieve more consistently crisp, clear vision by wearing contact lenses.
Invisible correction: For those who feel that they are "hiding" behind glasses, contact lenses can be an excellent solution.
For active lifestyles: Contact lenses can also be a more comfortable choice for individuals with an active lifestyle and athletes.
A versatile choice: Many people choose to wear their contacts during the day and only switch to their glasses right before bed, while others opt for contact lenses only for special occasions.