As your La Jolla comprehensive eye care center, The Classical Eye plentiful contact lens options to fit your vision needs and lifestyle requirements. Your experienced optometrist will work with you to understand your priorities and make recommendations of contact lens brand and type to best meet your goals. Whether you have been wearing contacts for some time or you are newly considering leaving your glasses behind, you can review your options and make an informed choice with your eye doctor at The Classical Eye.
Your Contact Lens Fitting at The Classical Eye
Contact lens prescriptions are generally valid for a year. At your annual contact lens fitting at The Classical Eye, your optometrist will perform visual acuity and vision tests to precisely identify your current contact lens prescription. Once this is settled, your optometrist will consider your unique vision and discuss your lifestyle to help you arrive at the most suited contact lens type for you.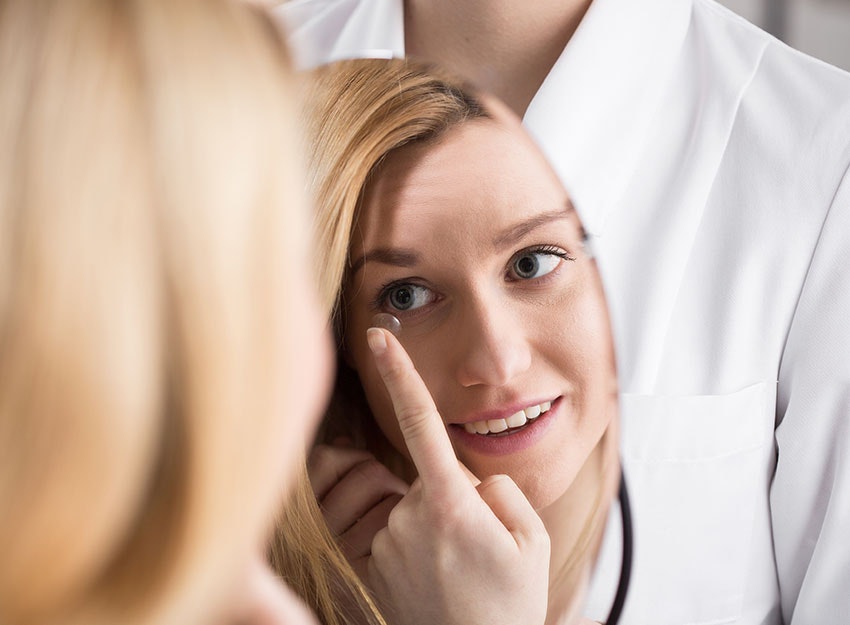 The Most Trusted Brands
As part of the Total Vision eye care network, The Classical Eye maintains relationships with the most trusted and best-selling contact lens brands. As part of our commitment to fulfill your eye care needs, we ensure that the latest developments in contact lenses are readily available to you. We work hard to make sure that ordering and reordering your lenses is a seamless process at The Classical Eye.
Contact Lens Types
Different types of contact lenses can offer different benefits to you. While some vision problems require a specific type of contact lens, your own preferences also make a difference as well.
Soft contact lenses are the most common contact lens type. Known for being easy to wear and lastingly comfortable, they are appropriate for treating nearsightedness, farsightedness, and astigmatism. Available in long wearing and daily disposable, soft contact lenses are an easy fit into any lifestyle.
Rigid or RGP contact lenses are also appropriate for treating nearsightedness, farsightedness, and astigmatism. Some patients find that they can achieve even more clarity of vision by wearing rigid contact lenses. It may require a period of adjustment before rigid contact lenses feel completely comfortable for some patients.
Toric contact lenses can be soft or rigid and are specially shaped to treat certain types of astigmatism.
Specialty contact lenses are also available to treat specific eye conditions such as keratoconus or dry eye syndrome. Talk to your optometrist about your options if you are interested in contact lenses as treatment.
Make Your Appointment at The Classical Eye
As part of your contact lens fitting, your optometrist will show you how to put in and take out contact lenses, as well as care for them properly. It is very important to follow these best care practices in order to avoid irritation or infection. When worn properly, contact lenses are safe, comfortable, and effective at correcting a variety of vision problems.
To learn more about your contact lens options and learn more about how contact lenses can fit into your active lifestyle, make an appointment to visit your optometrist at The Classical Eye in La Jolla.