David W. Stemley, O.D., affiliated with the Total Vision eye care network, is the most reputable source for all your vision and eyewear needs in Carlsbad. We're proud to announce that our state-of-the-art eye center is stocked with the latest glasses from some of the most reputable American and European designer brands.
We also have cutting-edge diagnostic technologies that allow us to provide incredibly accurate and precise prescriptions for crystal-clear clarity. Our comprehensive eye care center also gives you access to the most experienced optometrists and opticians who guide you towards eyewear that complement your personality and style.
Looking for the ideal pair of glasses in Carlsbad? Your search is complete.
Curated Selection of Designer Glasses
The right pair of glasses instantly transforms your appearance. With the wrong pair of glasses, you're just someone with bad eyesight. But the right pair of glasses can transform you into someone attractive and fashionable.
At David W. Stemley, O.D., our trained opticians discuss your preferences and lifestyle to guide you towards the ideal pair of glasses to match your personality and facial features. We want you to love your glasses rather than simply tolerating them.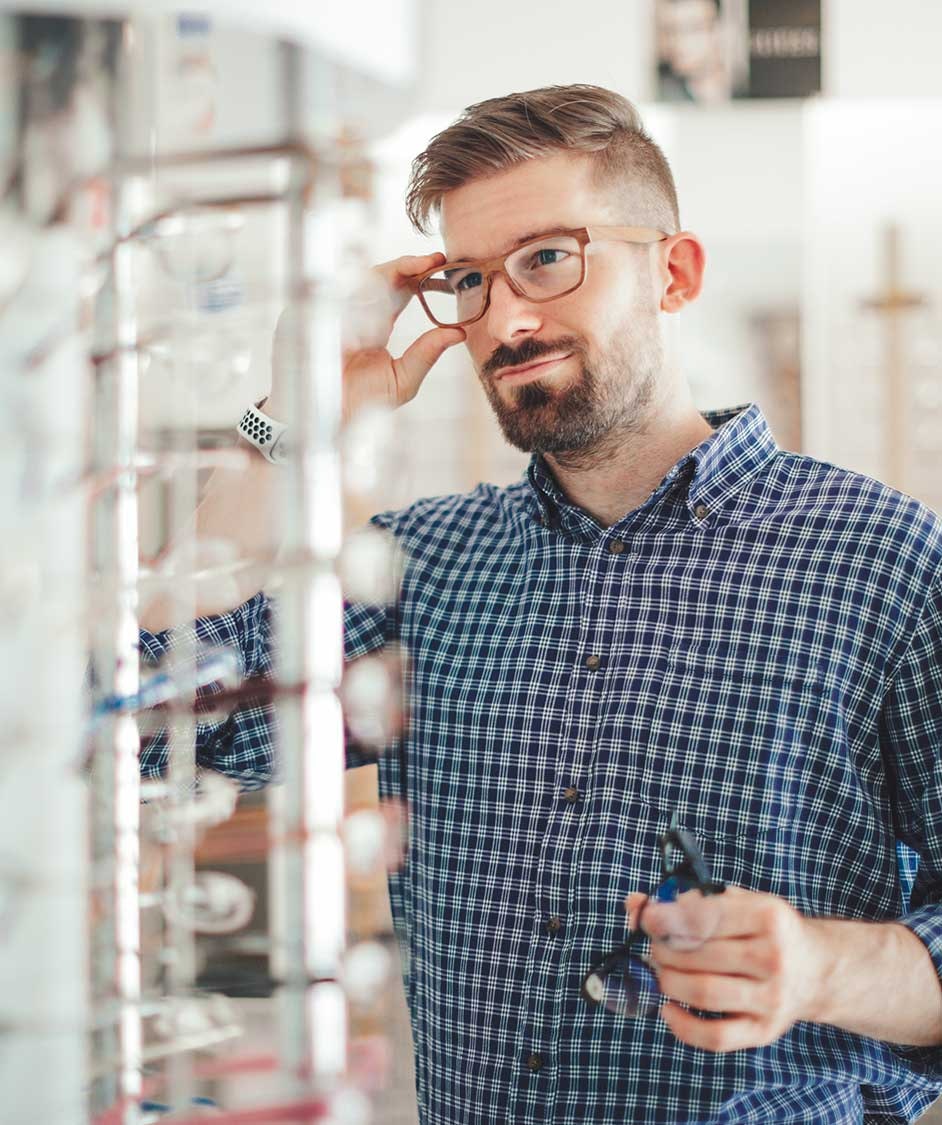 Functional & Fashionable
Finding attractive frames isn't enough — they must also compliment your lifestyle. We stock an extensive and curated selection of designer eyewear for every occasion. Whether you need glasses for the gym, for work, for casual Sundays, or for cocktail events, we've got you covered.
All you have to do is inform our opticians of the necessary events or occasions — they'll put together the ideal selection of eyewear for all the necessary events in your life. You can rest assured that we'll provide glasses that are both fashionable and functional.
Incredible Lens Choices
Your options don't end with glasses and frames — you must also choose the ideal lens types and lens treatments. You may need different lens types and treatments to address different vision problems — your optometrist will discuss your preferences and prescriptions to recommend the ideal lenses.
At Dr. Stemley's office, we stock all types of lenses, including high index, multifocal, progressive addition, Transitions®, anti-reflective, polycarbonate, and polarized lenses. Our opticians will discuss the unique benefits and features of all the lens types and treatments to help you make an informed decision.
The Perfect Fit
There's nothing quite as annoying as a pair of glasses that keeps slipping or sliding down your nose. The opposite is just as bad — when the glasses are so firmly attached that they dig into your nose, leaving a mark on the bridge of your nose.
Our opticians carefully adjust the glasses to ensure they fit perfectly, without slipping, sliding, or pinching your face. Your glasses will be customized according to your specific facial structure and anatomy, so they fit you like a glove. It is our mission to give you the best-fitting glasses Carlsbad can provide.

Schedule Your Vision Test in Carlsbad Today
David W. Stemley, O.D. is your well-stocked and full-service eye care center in Carlsbad. Whether you're new to glasses or have been wearing them your whole life, visit our conveniently-located office in Carlsbad to transform your vision.