Your eye exams are about a lot more than just updating your contact lenses or glasses prescriptions. Of course, you will certainly receive an updated prescription during your eye exams in Carlsbad — but that's not all. Our comprehensive eye exam aims to gauge the quality of your overall eye health. We leverage cutting-edge diagnostic technologies to identify the slightest signs of vision problems and promptly treat them as soon as possible. We proactively help you maintain optimal eyesight and eye health for a lifetime. David W. Stemley, O.D. provides the most comprehensive and accurate eye exams in Carlsbad.
What to Expect?
Your comprehensive eye exams should conclude within an hour without any pain or discomfort. Your Carlsbad optometrist reviews your medical history, performs a series of vision tests, examines your eyes, and administers several additional diagnostic tests to look for possible eye conditions. If they identify troubling signs or symptoms, they may perform additional screening tests and evaluations to arrive at an accurate diagnosis.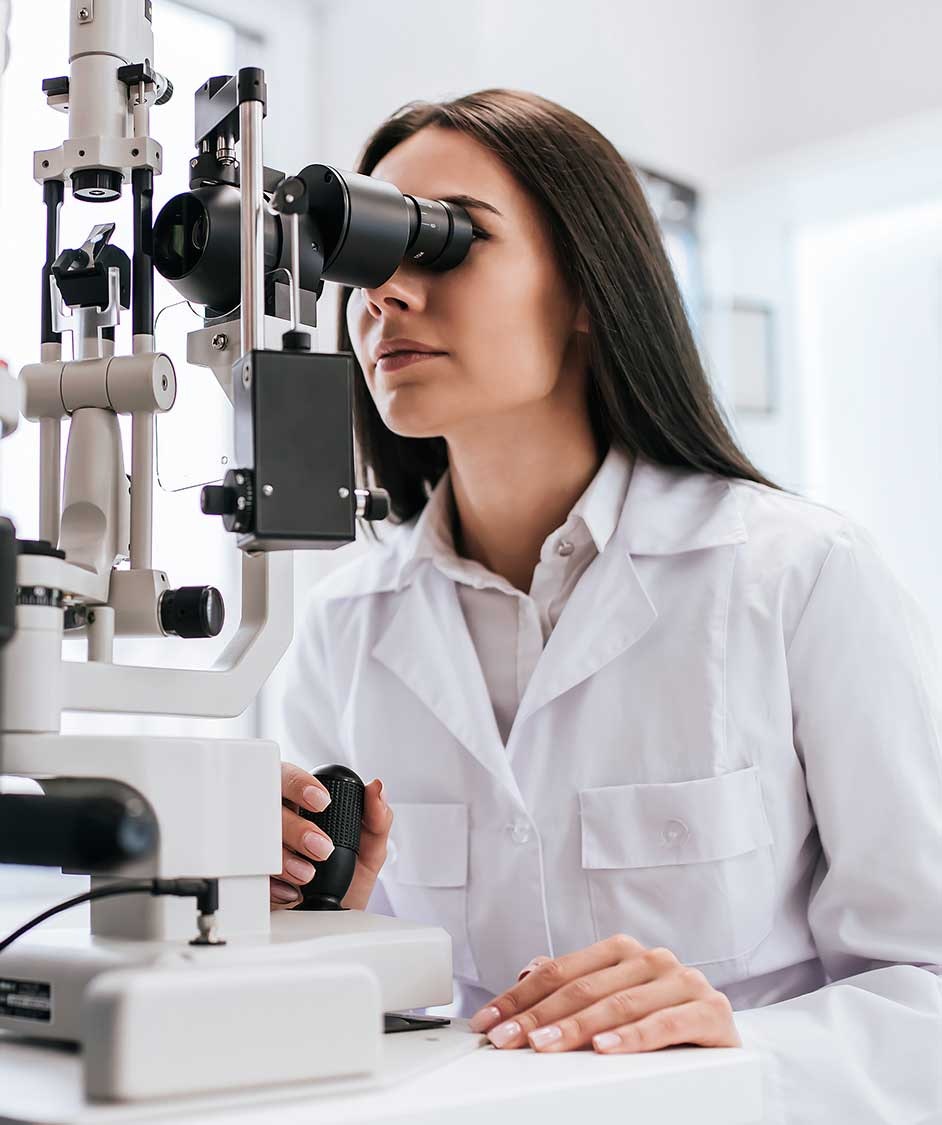 Visual Acuity & Peripheral Vision
Vision tests are an integral component of all eye exams. The optometrist administers a range of visual acuity tests to determine the sharpness of your vision at various distances from the object. These tests determine if you need glasses or contact lenses. Besides measuring the sharpness of your vision, the eye doctor will also measure your peripheral vision to determine if you have any blind spots, indicative of certain underlying eye conditions.
The Correct Prescription
Glasses and contact lenses are worn to conveniently correct "refractive errors," i.e., a group of eye conditions that cause blurry vision because of your eyes' inability to bend light correctly, such as nearsightedness (myopia), farsightedness (hyperopia), age-related blurred vision (presbyopia), and blurred or distorted vision (astigmatism). During your comprehensive eye exam, the eye doctor administers various refractive tests to identify your accurate prescription.
Internal Eye Examinations
After the standard visual acuity and refractive tests, the optometrist will proceed to some advanced diagnostic tests. They'll use several methods and techniques to examine the internal structures of the eyes, including the retina and the optic nerve. The slit lamp test and the indirect retinal examination are tests wherein light and reflections are used to non-invasively examine the internal structures of the eyes.
Screening for Eye Diseases
Finally, the eye doctor will administer various screening tests to identify the signs and symptoms of underlying eye diseases. The "puff of air" glaucoma test, for example, allows the eye doctor to monitor your internal eye pressure. The optometrist administers various other tests and evaluations to examine your overall eye health and identify possible eye conditions. The optometrist also reviews your medical history to customize the diagnostic tests according to your specific risk factors.
Quicker Diagnosis, Better Treatments
We mentioned earlier that early diagnosis is crucial for the maintenance of lifelong optimal eye health. But how can we assure and guarantee a quick diagnosis of eye conditions? As part of the Total Vision eye care network, David W. Stemley, O.D. is equipped with cutting-edge technologies that facilitate the diagnosis of eye conditions with greater accuracy than ever before.
Schedule Your Eye Exam in Carlsbad Today
Take charge of your ocular health and eyesight by scheduling regular eye exams in Carlsbad at David W. Stemley, O.D. Our compassionate and exceptional optometrists will guide you through every step of the process, ensuring that you're physically and mentally comfortable throughout the entire diagnostic journey. Join us at our Carlsbad location for your comprehensive eye exams today.