David W. Stemley, O.D., is the ideal eye care center for an extensive selection of contact lens types and brands. Part of the Total Vision eye care network, we pride ourselves on offering cutting-edge vision and contact lenses solutions. If you're looking for a pair of contact lenses in Carlsbad that's comfortable, convenient, and crystal-clear, you've come to the right place.
The Contact Lens Fitting
Contact lens prescriptions are only valid for a year, necessitating annual and regular contact lens fittings. During your contact lens fitting at David W. Stemley, O.D., our Carlsbad optometrist examines your eye health and administers the relevant eye tests to provide the ideal prescription. We use the latest diagnostic tools and technologies to provide the most accurate prescriptions possible. At the end of the contact lens fitting, our optometrist also discusses your preferences and prescription to recommend the ideal contact lens types for your specific needs.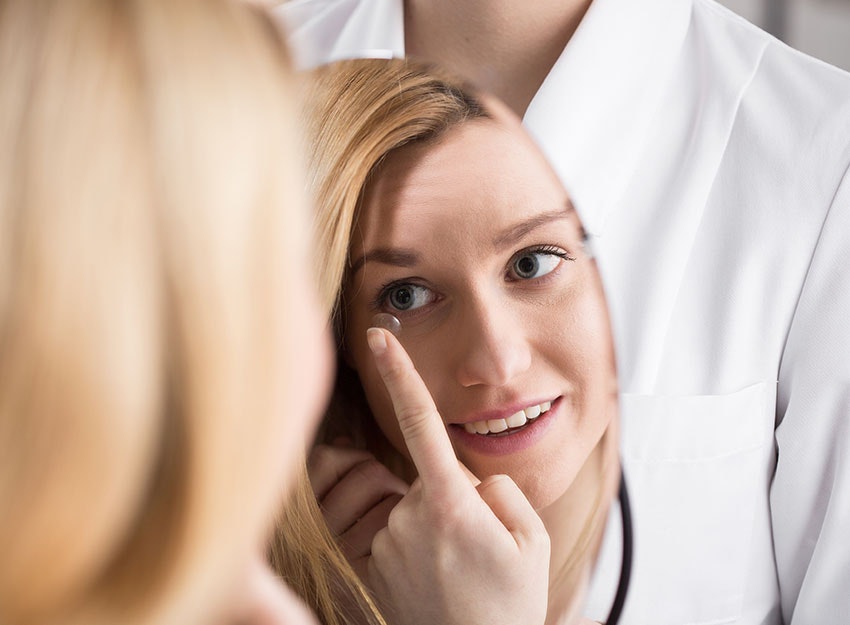 Choosing the Right Contact Lenses
When it comes to choosing contact lenses, the options can be dizzying. Besides the wide range of brands available, you also have to make selections based on durability, longevity, comfort, and your prescription. Our optometrists and opticians guide you through the entire journey to ensure you find the best contact lenses according to your unique preferences and prescriptions.
Types of Contact Lenses
Soft Lenses
Soft lenses are ideal for people suffering from nearsightedness, farsightedness, and astigmatism. They're the most popular contact lenses because they're extremely comfortable and require minimal maintenance. They're available in long-wearing, disposable, or fashion color styles.
Multifocal Lenses
Multifocal contact lenses are usually meant for patients suffering from presbyopia, a refractive error common amongst patients older than 40. Multifocal lenses contain multiple prescriptions, making them more versatile, but they also involve a brief adjustment period.
Rigid Lenses
Rigid lenses, also known as rigid gas permeable lenses, are also designed to treat nearsightedness, farsightedness, and astigmatism. They're not as popular as soft contact lenses because they require more maintenance, and they involve a brief adjustment period during which they may cause some discomfort. However, rigid lenses are popular despite their flaws because they last longer and provide greater clarity than soft lenses.
Toric Lenses
Toric contact lenses are usually meant for patients suffering from astigmatism, a refractive error that makes your vision appear distorted and blurry due to irregularities in the corneal shape. Toric contact lenses are shaped like a donut to treat this unique refractive error — they're available in soft and rigid styles.
Fashion Lenses
Fashion contact lenses are colored contact lenses used for cosmetic purposes. You can get colored variations on any of the aforementioned lens types, including soft and rigid lenses. You can get colored lenses either with or without a prescription.
Schedule Your Contact Lens Fitting with Dr. Stemley in Carlsbad
As part of the Total Vision network of eye care centers, David W. Stemley, O.D. provides a broad selection of the latest contact lenses from some of the most reputable brands in the industry. For more information, please schedule your fitting for contact lenses in Carlsbad.